Investing in
Retail Properties
A Guide to Structuring Partnerships for Sharing Capital Appreciation and Cash Flow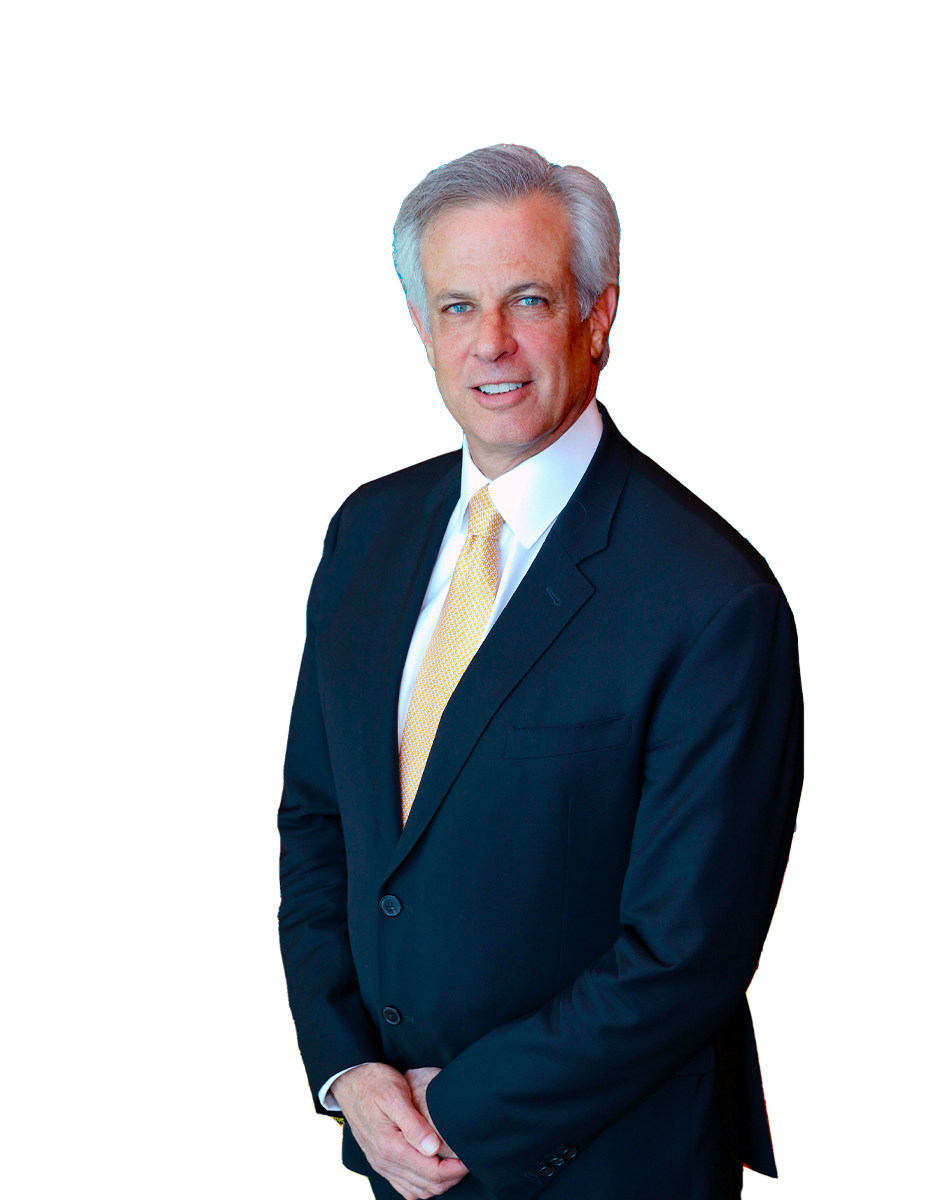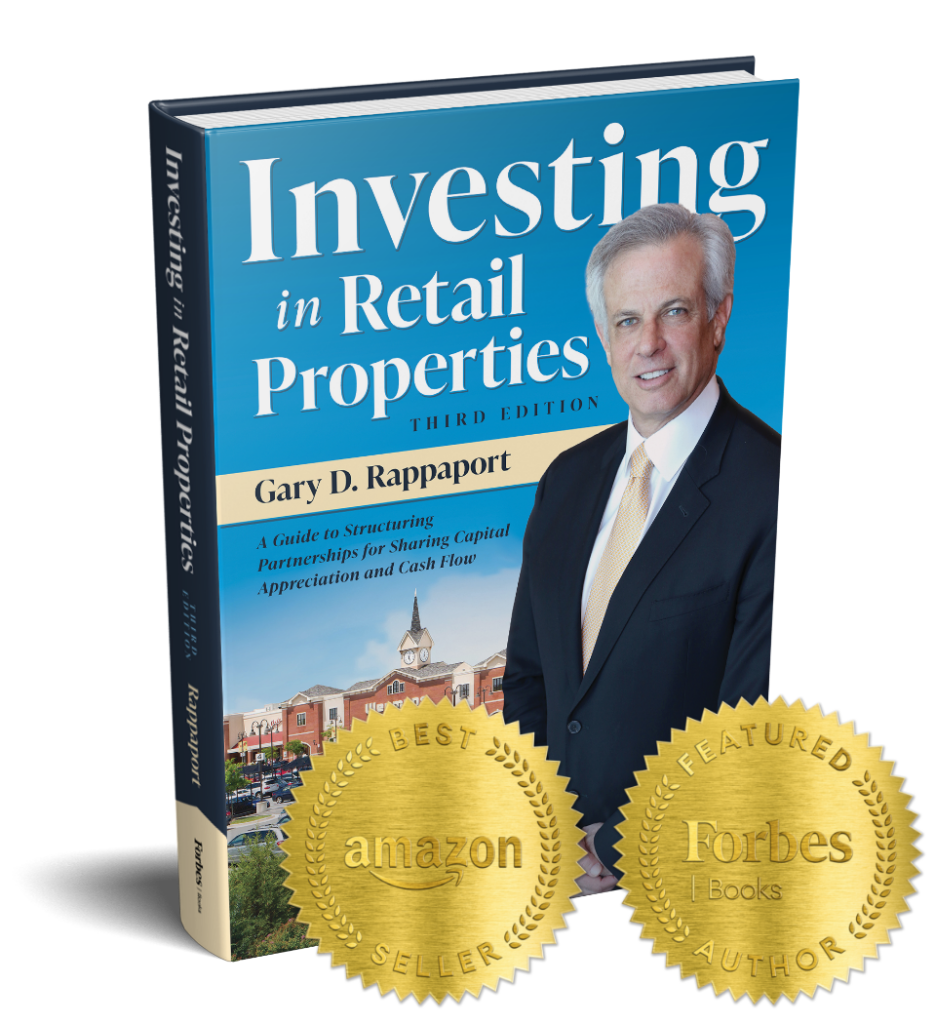 Gary D. Rappaport, author of Investing in Retail Properties: A Guide to Structuring Partnerships for Sharing Capital Appreciation and Cash Flow, was mentored by his own father who instilled in him an incredible optimism and drive for entrepreneurship. Thanks to that drive, he went on to build a vast portfolio of shopping centers and mixed-use projects within the Washington, D.C. Metropolitan area where his namesake company, RAPPAPORT, develops, manages, leases and represents tenants and landlords of retail properties. In September 2023, Forbes Books will publish the third edition of Gary Rappaport's book, where he shares his roadmap – built on integrity, hard work, patience, and a healthy tolerance for risk – so that others who are ready to take risks can succeed in the world of commercial real estate.
Get free access to download two chapters of Investing in Retail Properties – Third Edition when you sign up for our biweekly insights-packed newsletter, the Rapp Up.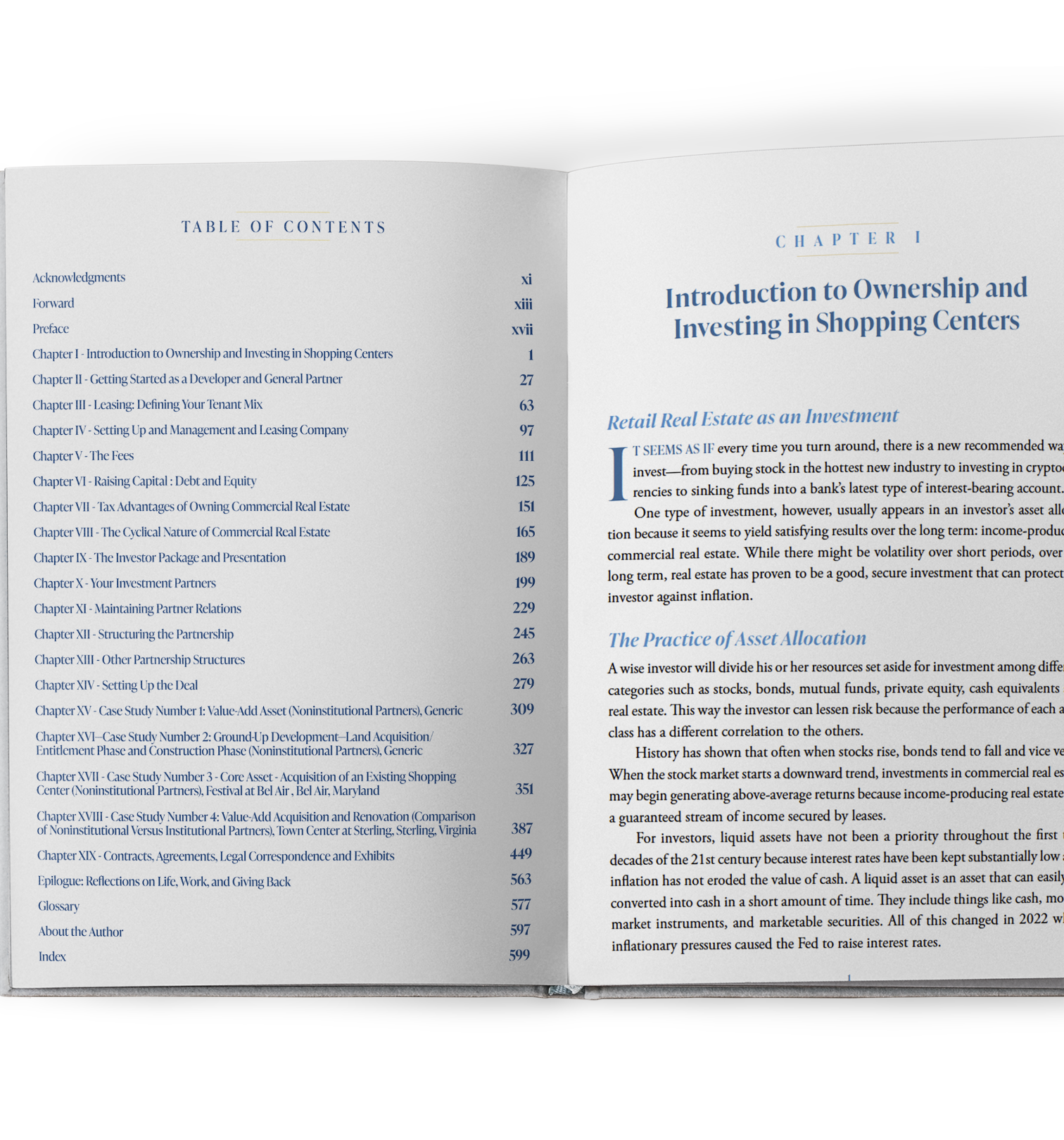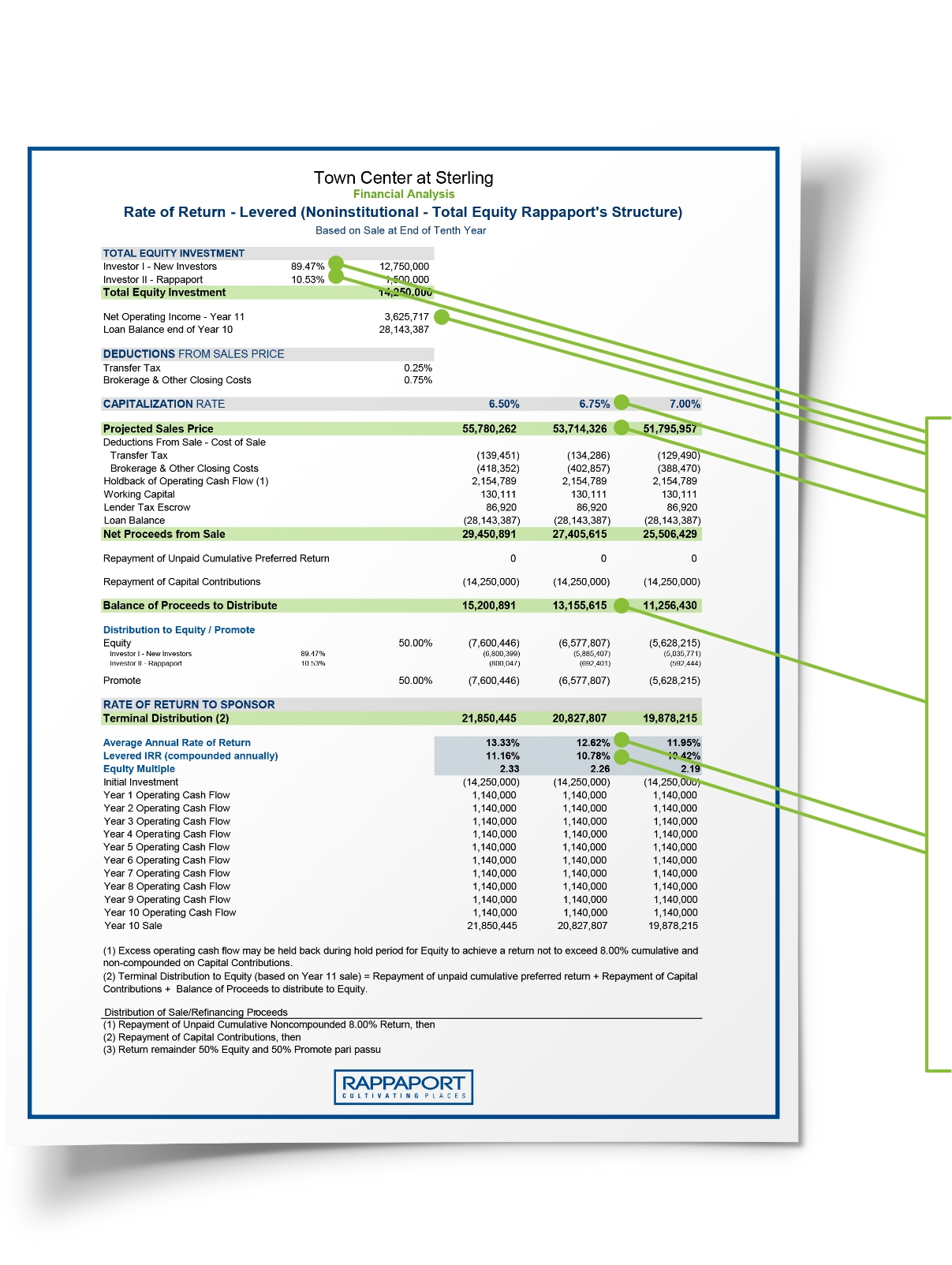 Sample Financial Analysis
Investor group invests: 89.47%
Sponsor invests: 10.53%
NOI year 11: $3,625,717
Midrange cap rate anticipated at the time of sale: 6.75%
Projected sale price: $53,714,326
Proceeds to distribute to the investor group after the repayment of debt: $13,155,615
Average annual rate of return: 12.62%
Levered IRR (compounded annually): 10.78%
Sample Financial Analysis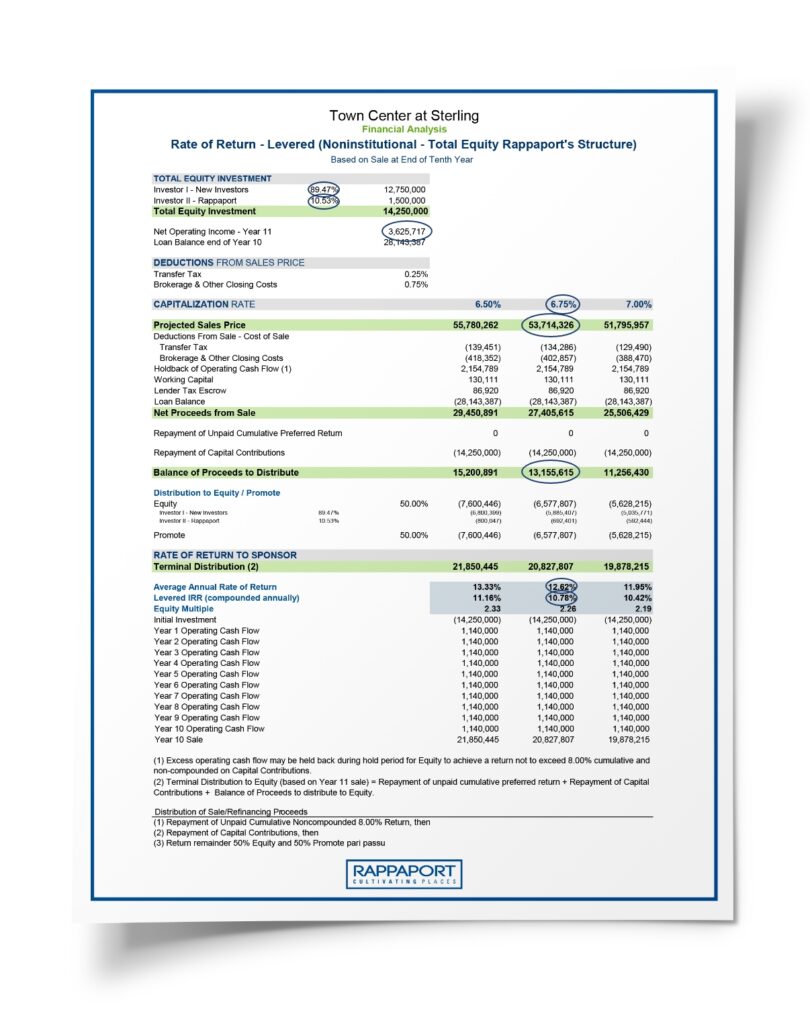 Investor group invests: 89.47%
Sponsor invests: 10.53%
NOI year 11: $3,625,717
Midrange cap rate anticipated at the time of sale: 6.75%
Projected sale price: $53,714,326
Proceeds to distribute to the investor group after the repayment of debt: $13,155,615
Average annual rate of return: 12.62%
Levered IRR (compounded annually): 10.78%
Order Investing in Retail Properties Today.
Order your copy of Investing in Retail Properties, an Amazon Best Seller under the category of Commercial Real Estate.
"In these pages, he takes interested readers and prospective financiers through every aspect of investing and cash-flow management, going into granular detail on things like depreciation, net absorption, and the intricacies of loans in both a bull and bear market. There are plenty of charts and a great blast of numbers and statistics—this is a consult-your-calculator, graduate-level, nuts-and-bolts seminar on the specifics of investing in and managing commercial properties like shopping centers. Rappaport is a terrific storyteller, even when he's crunching numbers. He smoothly brings this latest edition of his book up to date with references to Covid-19 and recent changes in the Federal Reserve's finance rates. But ultimately, the wonkish, ethical author at the heart of it all will strike readers the most. A consummately authoritative and valuable examination of retail investing."
Kirkus Reviews
Septemeber 7, 2023
"Supermarkets and grocery-anchored centers run through my blood. My great-grandfather was a co-founder of Giant Food, and my father founded and has overseen a successful shopping center investment company where I developed a love for the business and rose through the ranks. I am extremely fortunate as I have been mentored by Gary Rappaport, and I cannot speak highly enough of Gary as an entrepreneur in the shopping center business, and more importantly, as a person. I have read all three editions of Investing in Retail Properties, but the third edition is by far more comprehensive than its predecessors. Even at this stage of my career, I find his latest book not only entertaining, as Gary shares experiences over his lifetime and career, but also educational, as I continue to learn and adapt to an ever-evolving retail real estate business."
- Max Lehrman
President, Lehrco Corp. Washington, District of Columbia, USA
"Investing in Retail Properties is much more than an academic textbook for developers wishing to develop properties and structuring the ownership entities. This new edition has added benefits with new case studies that the author shares and new chapters such as the 'Tax Advantages of Owning Commercial Real Estate.' For me and other investors, it teaches us about the fundamentals of retail real estate and what investors can expect from holding such investments on a passive manner for the long term. I would encourage anyone who is considering investing in retail properties to read it and understand the nuts and bolts that while they may never need the tools in their toolbox to develop, acquire, lease, and manage the shopping center asset, at least they'll be able to know who can and whether an investment makes sense to invest in or dispose of on a timely basis."
- Harold Zirkin
Managing Member, Hz Investments Inc. Chevy Chase, Maryland, USA
"Want to know how to set up a management and leasing company? Need a tutorial in how to maintain partner relationships? Need a better grasp of the cyclical nature of commercial real estate? Rappaport has the answers and willingly shares them. Rappaport doesn't leave you stranded on a sea of overwhelming or vague information. He accompanies you step-by-step with easy-to-follow advice and real-world examples. Along the way you'll also learn plenty about his personal favorite type of commercial real estate – grocery-anchored shopping centers. Investing in Retail Properties includes a plethora of photographs, along with helpful charts and graphs, that complement Rappaport's anecdotes and lessons, giving readers an even better understanding of the instruction he provides."
- The Real Estate Network Magazine
Novermber/December 2023 issue
"The third edition of Investing in Retail Properties is greatly expanded; with the updates of deal structures, we are typically seeing today the addition of structures used by other developers. Gary Rappaport's very personal writing style and real-world examples reflect his passion for this business, serving to motivate and inspire readers more than the usual textbook."
- James E. Maurin, CRX, CSM
Founder and Past Chairman, Stirling Properties, Covington, Louisiana, USA
"The 664-page book officially has 19 chapters, plus a preface and an epilogue about the author's life and experiences, but Rappaport likes to divide the book into three strata. The first part of the book focuses on practical ways to establish real estate ventures, whether it's via acquisition, development or management. The second section covers what he labels "the model." With his own firm as the blueprint, Rappaport discusses the ins and outs of setting up stable management operations in a way that will endure the cyclical nature of retail real estate. The model has paid off for his own firm when it was hit with the ultimate black swan event, COVID-19. The third portion of the book discusses risk that aspiring real estate entrepreneurs can expect to encounter. The book also includes extensive case studies of shopping centers in the Mid-Atlantic that serve as teaching opportunities."
- John Nelson
SHOPPING CENTER BUSINESS – SEPTEMBER 2023
"Gary Rappaport's Investing in Retail Properties is an essential resource for anyone who wants to invest in commercial real estate but particularly in retail properties. I assign it as a required textbook to my students working toward their master's in real estate degree at Georgetown University and recommend it to real estate professionals with the same advice, 'read it using a highlighter to underscore your learning objectives; it is filled with insights that you'll want to revisit and reference."
- Brian D. Friedman
Partner, Friedman Capital and Adjunct Lecturer, Georgetown University, Washington, District of Columbia, USA
"Our students at the University of Colorado Real Estate Center at the Leeds School of Business have found that Investing in Retail Properties gives them real-life case studies beyond what any commercial real estate textbook can provide. The book has also been a handy desk-side resource for many students in their other real estate classes. I am recommending this new third edition to anyone considering a career in commercial real estate."
- Michael P. Kercheval, PhD
Sherman R. Miller Executive Director, CU Real Estate Center, Leeds School of Business, University of Colorado, Boulder, Colorado, USA
Gary Rappaport believes in giving back. Through his generosity, he has earmarked 100% of his book royalties to the ICSC Foundation, the charitable arm of ICSC, dedicated to creating a vibrant retail and real estate industry by building a pipeline of bright, ambitious and diverse talent that can drive the industry forward.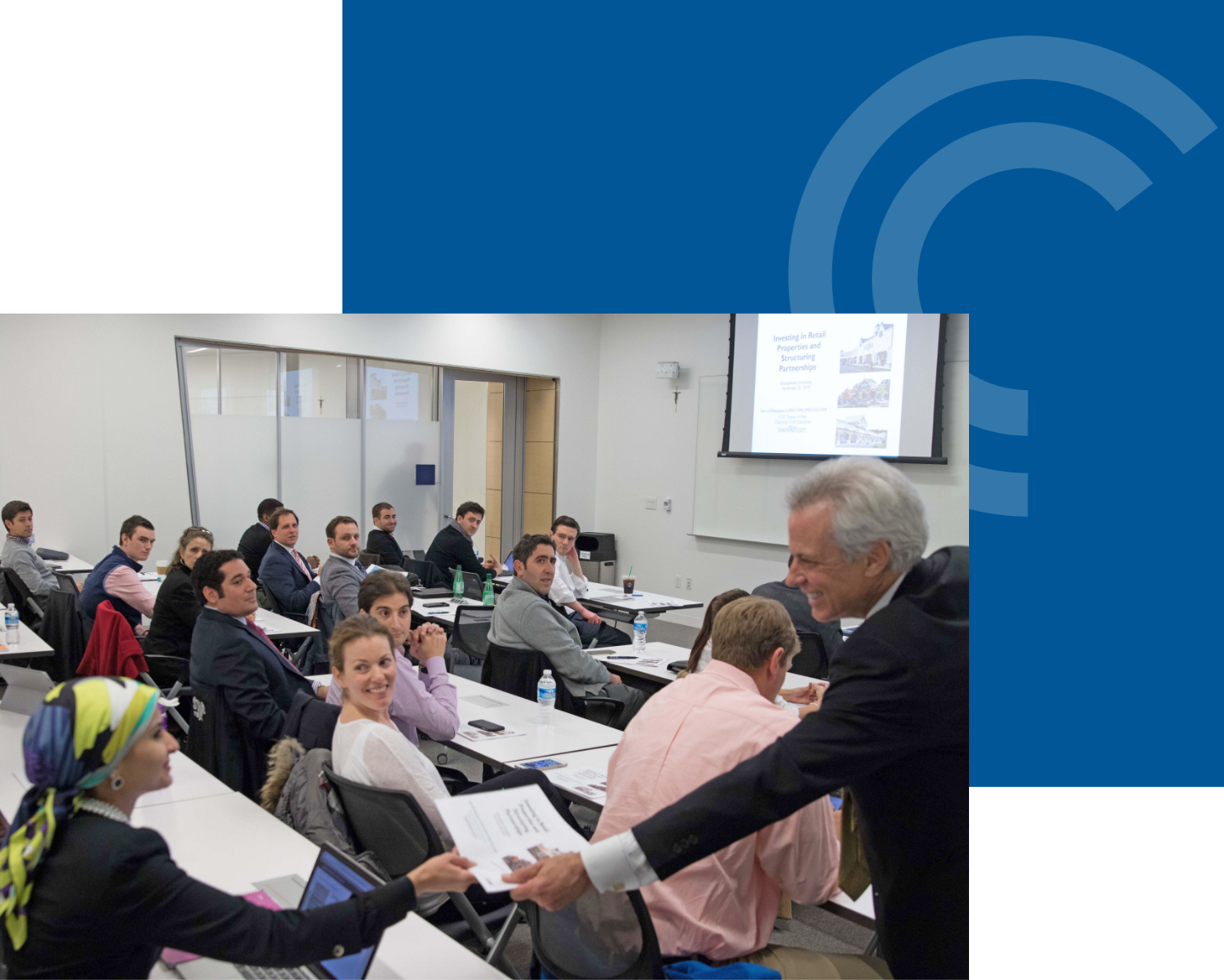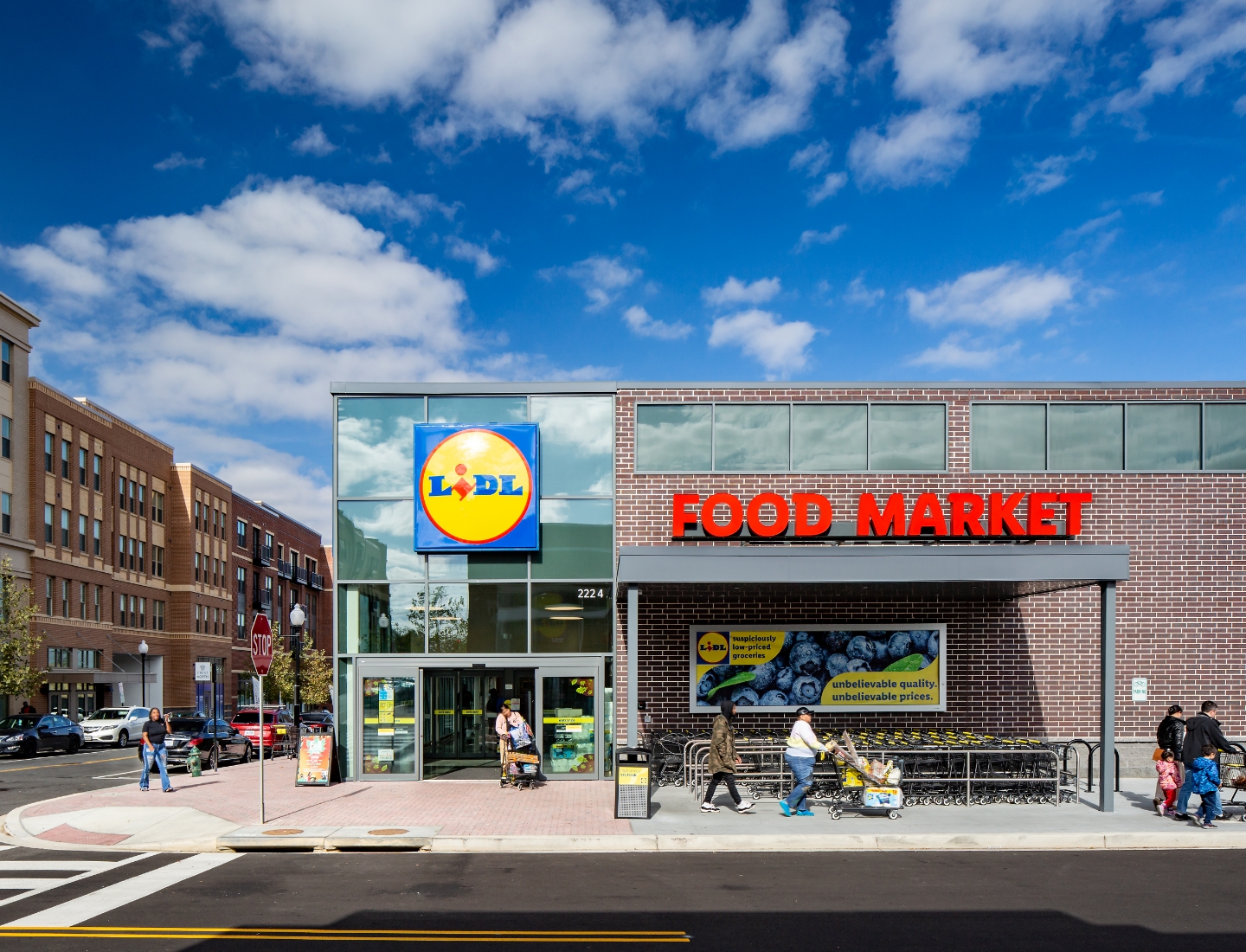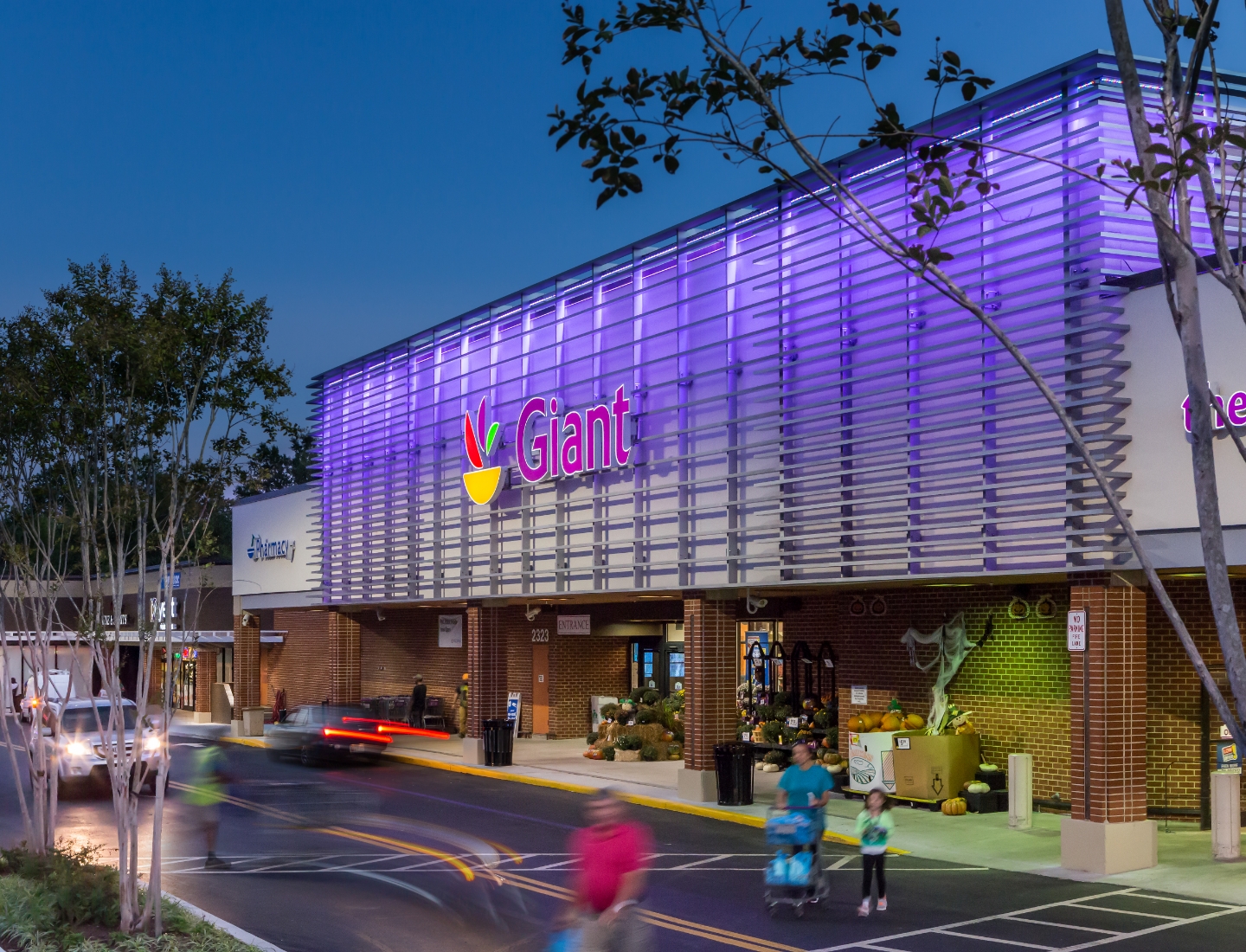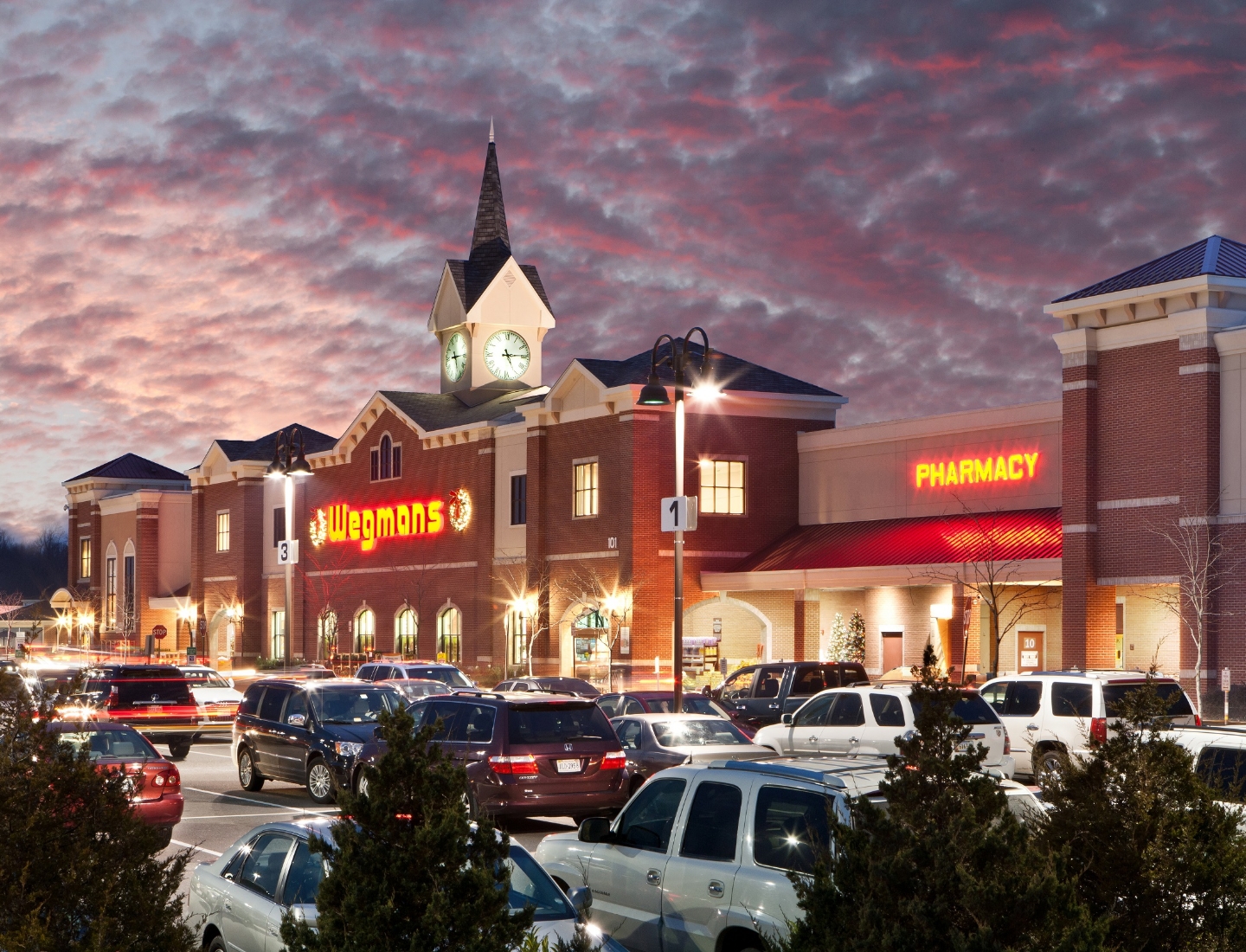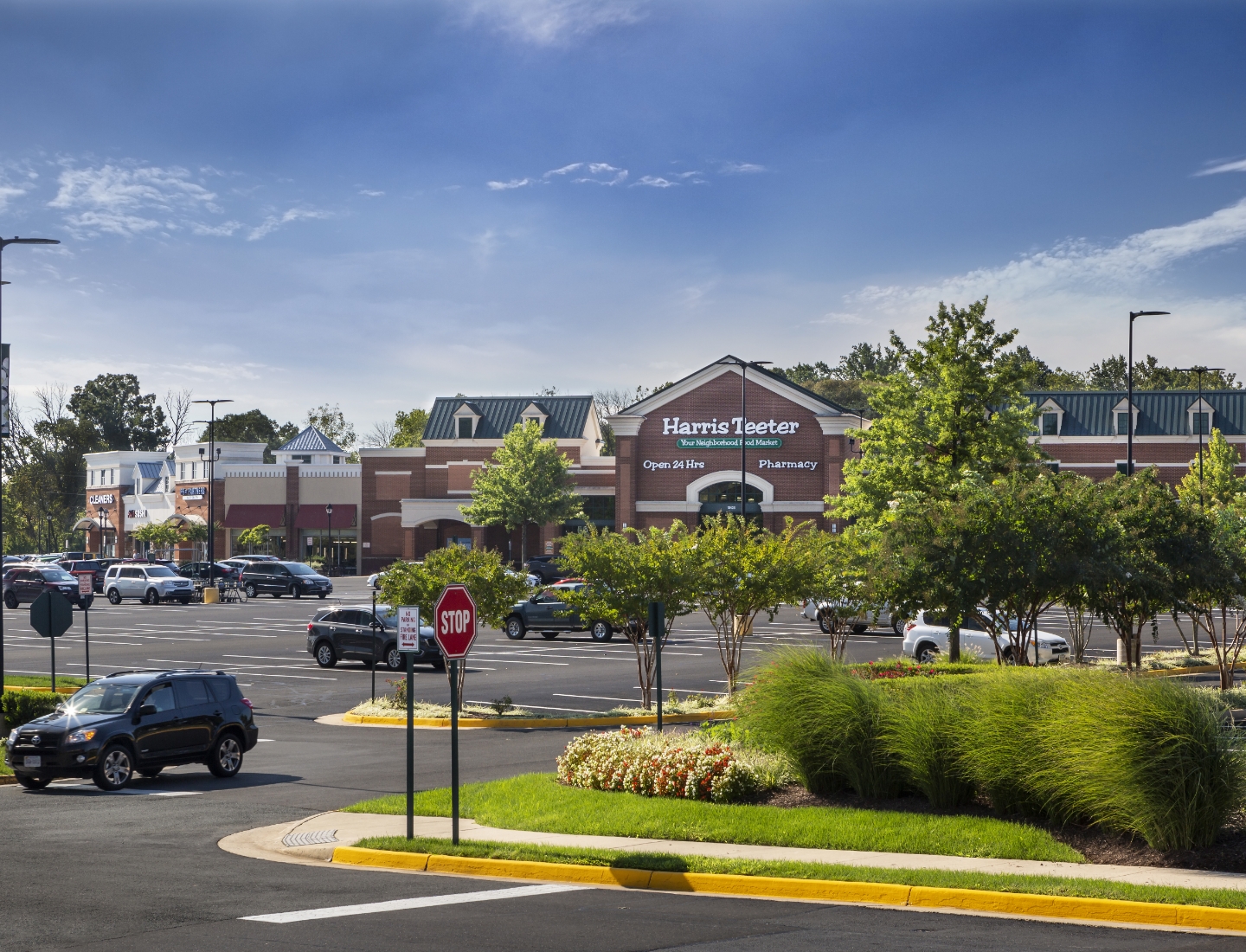 RAPPAPORT has grown to a vast portfolio of shopping centers, mixed-use properties, and open-air grocery-anchored community centers. RAPPAPORT now provides tenant representation, landlord representation, property management, and development services for more than 15 million square feet of retail space throughout the D.C. Metro Area.